Websites have become the solution of brand marketing but they are effective only when can grab the attention of the users. These days, website owners have become more conscious about designing and development of their website.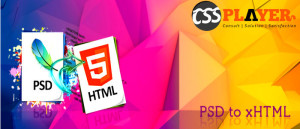 On the other hand, users and developers as well are trying their best to find out simple ways of effectual website development. For a good website, it's essential to ask your designer and developer to convert PSD to HTML. This conversion performs best for your website. CSS Player converts your websites from PSD to HTML which allow users to see their designs and ideas work in right format. The expert designers are always ready to work on any PSD to HTML conversion project.
Since the PSD to HTML conversion services is a renowned process to create a website, it offers an array of benefits to the users with affordable price in smallest possible time frame. If you have an impressive PSD theme then it's truly a wonderful idea to convert it to HTML. Give an opportunity to CSS Player to convert your PSD theme to HTML for enhanced optimization and motion of browsers.
If you are planning to convert PSD to HTML conversion, the very expert designers with top notch and cutting-edge easily convert themes professionally. However, if a question is arising in your mind ''why to choose them''? The answer below would definitely satisfy you.
Reasons to avail CSS Player to Convert PSD to HTML
Technical understanding of PSD themes
Tidy W3C yielding coding for HTML
Reasonable pricing
Search engine friendly theme conversion for HTML5 without any error for top rankings
Approachable HTML website designing
Expert quality conveyed within the time limit
Expert and experienced designers instigate advanced technology for conversions
PSD files saved in layers can be opened in Photoshop or making use of any compatible software. The images are sliced and changed around to best suit the theme of the website that is being designed in HTML. The changed PSD files can be easily saved as bitmap, JPEG or any other compatible format for further use. So this is basically what converting PSD to HTML code is all about. The converted PSD to HTML files look even better than it did in the original.
Benefits of Converting PSD to HTML
Cross-browser compatibility
CMS Integration
Semantic coding
Unique design with reduced load time
To make your website compatible with different web browsers and operating systems, the expert designers of CSS Player make use of HyperText and Mark-up Language tags. They convert PSD to HTML to play a very important role in fetching large fraction of online visitors on specific website.