Today, the product marketing for sale is getting intricate. It is due to the variation in the selling modes and pattern of inventory management to enhance the faster shipment of the parcels to the street addresses. More complexities in logistic management, data processing, and order confirmation increase the necessity of upgrading the basic e-stores into multinational cross-device compatible platforms.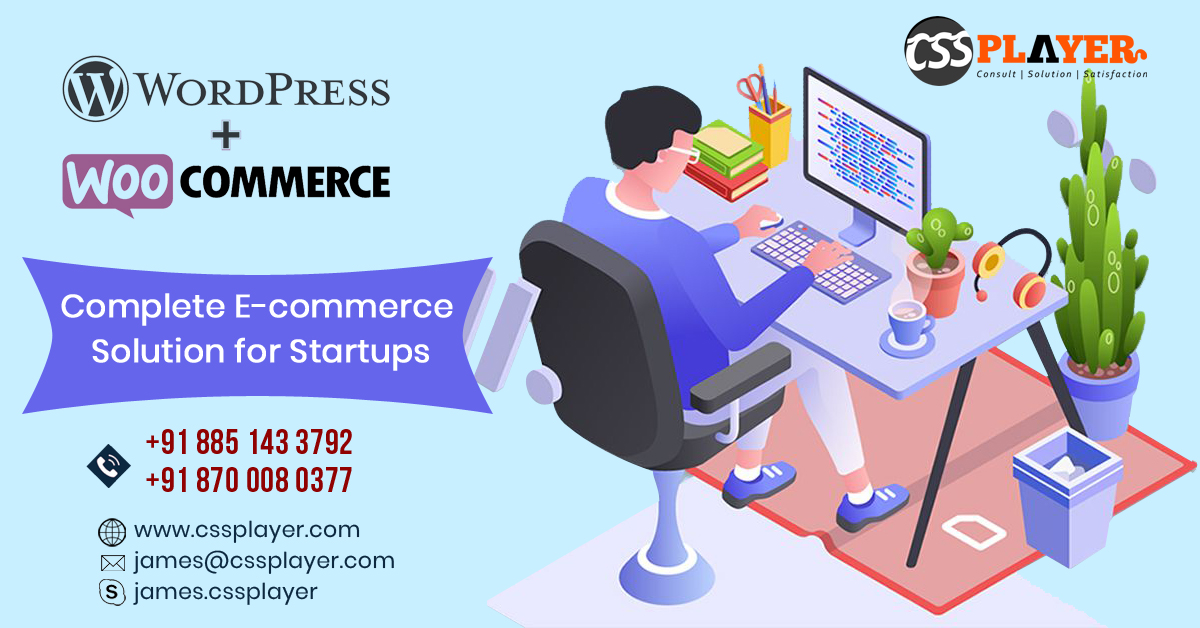 WooCommerce is open source software for converting your WordPress website into an e-store. It keeps innovating the e-commerce websites for faster transactions, smooth data management, and awesome customer retention. CSS Player is a top web development company in India and it is specialized in WooCommerce website development and maintenance to make your web portal highly efficient to give the best-in-class support to online consumers.
For the sake of superb visual aesthete of your selling page, you need WooCommerce which gives you technical facility to do the brush-up to decorate the page. CSS Player, the top ecommerce development company, offers brilliant themes for awesome visual decor for customer retention.
Features of WooCommerce
No higher service charges for building up WooCommerce website
The e-store based on WordPress is flexible and easy for maintenance
Fast payment option and it is free
Blog posting option
Online free data analysis
Easy data access
Online navigation is qualitative
No spamming issue
24×7 live tech support
Add WooCommerce Plug-in to Your WordPress for Creating E-store
Your existing WordPress website can be changed and modified into the powerful WooCommerce e-store for product promotion. Right now, the virtual marketing funnel is blooming and it is becoming the only genuine place for buyers to do shopping from anywhere. WooCommerce website developers are here responsible to improve your WordPress website enhancing its compatibility and efficiency to give support to you for business correspondence.
Sell your new products from your home without creating a warehouse for storing and product delivery. You do not need the space for opening the office for handling the business. WooCommerce store is a cross-platform mobile network with the superb order processing system. Simply plug-in process brings a solution to you to activate WooCommerce on the conventional WordPress setting.
37% of e-stores are operated through WooCommerce. CSS Player has studied to design a low cost plan for upgrading WordPress set-up for easy online product promotion, and sales generating process. CSS Player is also offering great digital marketing services to businesses. CSS Player an ecommerce digital marketing agency that helps brands to scale fast! We have helped our clients to achieve a ROAS (return on ad spend) of 5x, 7x, or even 10x for their ad budget using Google Ads, Facebook Ads, and SEO. We are a full-service digital marketing agency that is focused on the growth and profit of its clients and partners. Our ROI-Driven strategies and bespoke campaign optimization routines help brands save thousands of dollar mistakes, hundreds of hours figuring out the advertising strategies, and anxiety of burning cashflow.
Manage Your Bigger Projects on WooCommerce
Manage regular projects and assignments on this WooCommerce website. It is a plug-in that is attached to the WordPress site for project implementation, e-cart upkeep, and product customization process.
Excellent Privacy
Online hacking components are troublesome for buyers as they are harassed. Their order confirmation details, bank information and personal email address are at stake due to the fraudulence. This malpractice is punishable.
WooCommerce developers tighten up the security by giving your site anti-hacking sealant for removing the tension at the time of dealing online.
Track all the activities and packing details from your mobile phone. The WooCommerce website has new add-on like world class mobile apps. You can check messages, order placing process, and customers' feedbacks on android. It is a smart platform for doing the online business.
WooCommerce stores are personalized and dynamic to fit your purpose. Design the home page posting new videos, and graphic pictures for better leads to generate. That means, your home page gets a new brush-up and glossy improvement to appear more presentable to engage customers for brand awareness campaigns. CSS Player teamwork is relevant to tune up your e-commerce portal for enhancing mobility in product selling.
WooCommerce e-cart is a work of art through magnetic innovation. Startups can use this platform as blogging to accelerate the chance of brand recognition. The automated data analysis systems help you to go for deeper marketing research to feel the pulses of customers. CSS Player experts have the sharp logistic power and intuition to assess the brand value and they assist marketers to find the target audience for online lead conversion.
If you want to develop an entire ecommerce store using the WooCommerce ecommerce development platform, contact us for seamless and affordable services. Call us or write emails to us to know the best quotes for our WooCommerce website development services.