Most business operators find it hard to look for a trustworthy web development company for the online visibility they want. Without it, your business will not grow to the next level. One of the most suggested ways to boost your online visibility and interaction with a broader target audience is developing a responsive website for your firm with assistance from CSSPlayer.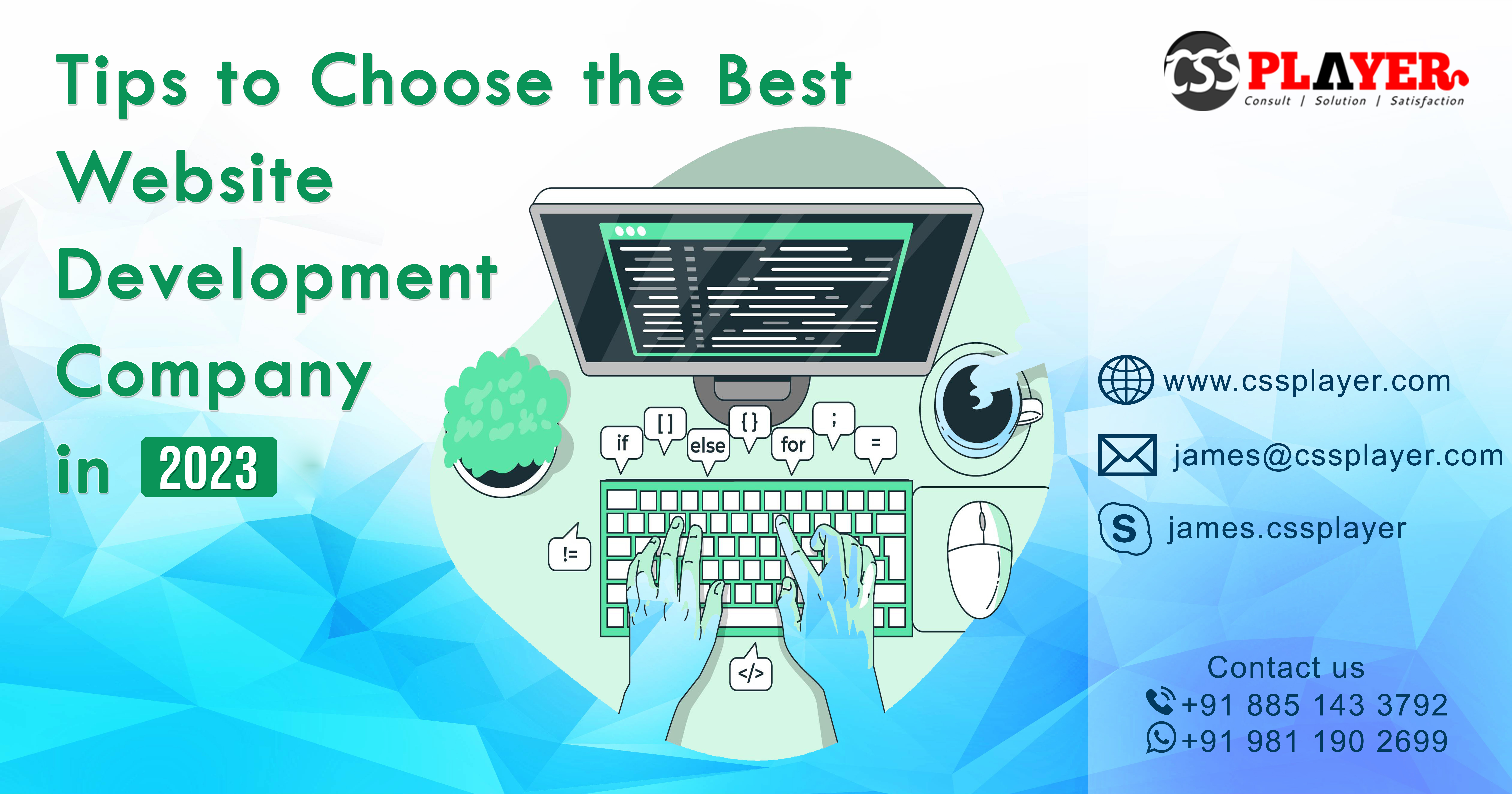 However, the truth is a lot of business owners start with little or no money and have to build a website to cater to their marketing requirements themselves. As their business grows, they learn that their simple website doesn't wrap everything, and they are behind the competition. Reports show that:
Around 50% of consumers won't choose your products or service if you don't have an attractive business website
57% of customers won't recommend your business to others due to poor web design
With the growing significance of business websites, it is, without doubt, a grand idea to allow CSSPlayer to create one for your business before it gets too late. Hiring us will prove beneficial because we will:
Design your business website
Develop
Continuously update and maintain it
But before making your decision, you must shortlist some web developers for the job. Keep the following tips to choose the best website development company in 2023 in mind when shortlisting.
1. Know your requirements
It is critical for business owners to know the needs of their website. Ensure you describe all the requirements to your web developer of choice. Your business website necessities will depend on your products or services. CSSPlayer will satisfy all your website development needs without much struggle after plainly describing them.
2. Experience matters
If you want an alluring and optimized website, hire CSSPlayer. Our web developers have vast experience in various areas of web development like:
Graphic design
Copywriting
SEO
Without lots of experience in these fields, designing a flawless and optimized website is next to impossible. Our web developers will make your business a website that is:
Attractive
Easily readable
Ranks high
We have been in operation for over 14 years to assure you we have what it takes to provide you with the web development services you want. When working with CSSPlayer, you can have peace of mind because our experts will guarantee everything will be fine.
3. Look at portfolio
If you wish to review the quality of work you should expect from a web developer, look at some of the websites they have in their portfolio. CSSPlayer has a portfolio with some of our earlier projects to showcase our success to potential clients. When inspecting the websites in the portfolio's look for:
Design originality
Interesting designs
Easy navigation
Shorter loading times
Search engine optimization
Check CSSPlayer's portfolio to evaluate our ability and see if we can deliver what you need.
4. Read reviews
Ask the web development specialist for contacts of their previous customers' and testimonials. Unearth more about what clients say about the web developer you want to hire. Apart from phoning and reading reviews from past CSSPlayer customers, you can even meet them and chat about each aspect to make the correct step.
5. Pricing
Don't be like most business proprietors attracted to the inexpensive costs of low-quality developers. Remember that cheap services might be costly in the long run as you will have to get another web development expert to rectify what your shoddy developer did wrong. Pick CSSPlayer web developers to get value for the money you spend instead of waiting to lament later. We offer our services at competitive rates.
6. Services on offer
Not all web development specialists deliver the same services. For this reason, you should check whether the web developer you want to hire offers other services, apart from web design and development. At CSSPlayer, we help you develop and launch your website so that you reach out to an enormous target audience. Other services that we provide include:
Mobile application development
Website maintenance
E-commerce solutions
Digital marketing
7. Quick turn around time
If you need a business website within a set deadline, you must work with a web developer known for delivering quality work within a specified period. CSSPlayer will develop your business website within the set deadline without compromising quality and attractiveness.
8. Size of firm
The size of the web developer you want to engage matters. If you have a large project, research the number of developers working for the business in question. Small-sized firms have few developers unable to handle your project. Working with such a developer will result in:
Delayed completion of the project
Compromise in quality
Overspending on another developer
9. Communication
Next, you must unearth more about how the web developer in question interacts with their customers. Try chatting or meeting with our previous clients to discover whether they liked our work or how we communicate. For effective contact with clients we:
Deliver regular updates on progress details
Communicate via various channels
10. Customer service
A web developer is nobody without exceptional customer service. Occasionally, website building and maintenance can consume a lot of time, and you might work for a long time with a web developer. For these reasons, superior customer service is necessary. CSSPlayer has excellent customer service to grow your belief in our firm.
11. Web hosting
Lastly, look for a web development whiz that hosts the websites it creates. You can have a swift website with CSSPlayer web hosting services. When it comes to hosting, we stress on:
Eliminating downtimes
Protection from hackers and viruses
Website backup
Final word:
Web development is hard work. However, if done correctly, it can be fruitful for your business. So you and your web development partner must have a mutual understanding and work towards a common objective. We hope that the tips we spotlighted in this piece will help you identify the finest web development company for your next project. Although you will come across multiple web development specialists during the selection process, you will realize that CSSPlayer is among the best of the best. For more details about web development, please visit our website www.cssplayer.com.